A new AWS region is coming to Stockholm, Sweden in 2018
Apr 11, 2017 · 2 minute read
Unless you've been living under a rock since… last week, you'd know about the AWS region coming to the Nordics. The new EU (Stockholm) region will be operational in 2018 and will have three availability zones — as of today only the EU (Ireland) region also has three AZs in Europe — located in Katrineholm, Västerås and Eskilstuna.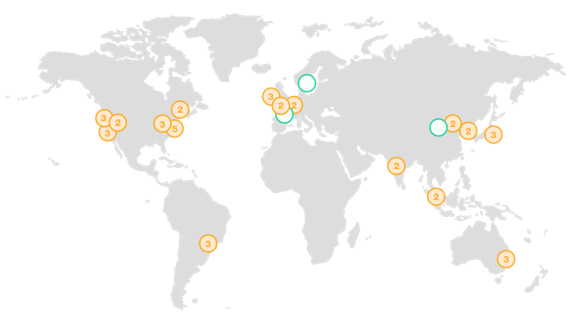 Official announcements
For over a decade, we've had a large number of Nordic customers building their businesses on AWS because we have much broader functionality than any other cloud provider, a significantly larger partner and customer ecosystem, and unmatched maturity, reliability, security and performance. The Nordic's most successful startups, including iZettle, King, Mojang, and Supercell, as well as some of the most respected enterprises in the world, such as IKEA, Nokia, Scania, and Telenor, depend on AWS to run their businesses, enabling them to be more agile and responsive to their customers. An AWS Region in Stockholm enables Swedish and Nordic customers, with local latency or data sovereignty requirements, to move the rest of their applications to AWS and enjoy cost and agility advantages across their entire application portfolio.
— Andy Jassy, CEO at Amazon Web Services on Amazon Web Services Announces the Opening of Data Centers in Sweden in 2018
Today, I am happy to be able to tell you that we are planning to open up an AWS Region in Stockholm, Sweden in 2018. This region will give AWS partners and customers in Denmark, Finland, Iceland, Norway, and Sweden low-latency connectivity and the ability to run their workloads and store their data close to home.
— Jeff Barr, Chief Evangelist at Amazon Web Services on Coming in 2018 – New AWS Region in Sweden
Today, I am very excited to announce our plans to open a new AWS Region in the Nordics! The new region will give Nordic-based businesses, government organisations, non-profits, and global companies with customers in the Nordics, the ability to leverage the AWS technology infrastructure from data centers in Sweden. The new AWS EU (Stockholm) Region will have three Availability Zones and will be ready for customers to use in 2018.
— Werner Vogels, CTO at Amazon.com on Välkommen till Stockholm – An AWS Region is coming to the Nordics
This is obviously great news for Nordic-based customers as an AWS EU (Stockholm) region will, among other things, give them lower-latency connectivity and the possibility to physically store data in-country. Happy?